Love at the Movies
Afternoon Tea - Feb. 12, 2022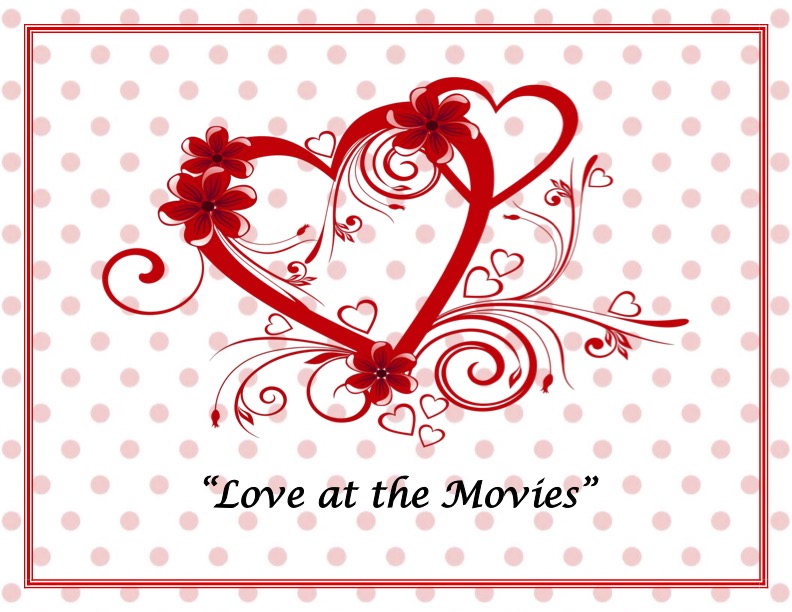 This is the placemat used at the tea. These were handed out to all the members who attended.
The Virginia Tea Society held its "Love at the Movies" tea on Saturday, February 12, 2022, at the Holiday Inn and Suites, North Beach. 
Members were asked to submit their favorite romantic movie titles.  Seven of those submitted were chosen as the themes for the 7 tables: 
Love Actually; An Affair to Remember; You've Got Mail; Sleepless in Seattle; West Side Story; Same Time, Next Year; and it Happened One Night. 
Everyone had a wonderful time, enjoyed the tea and engaged in conversation about the greatest romantic movies of all time. Here are the photos to prove it...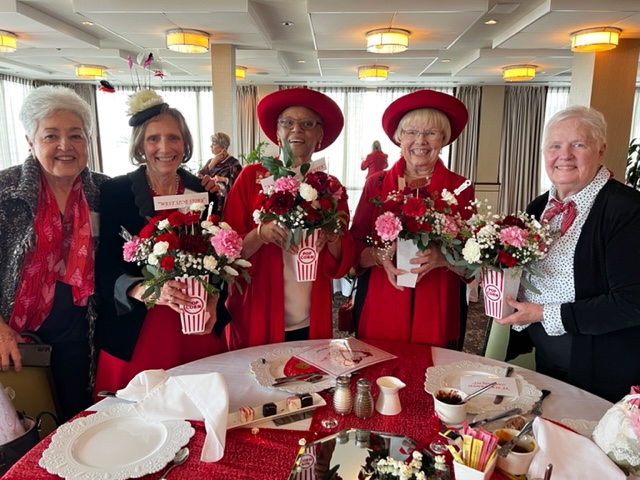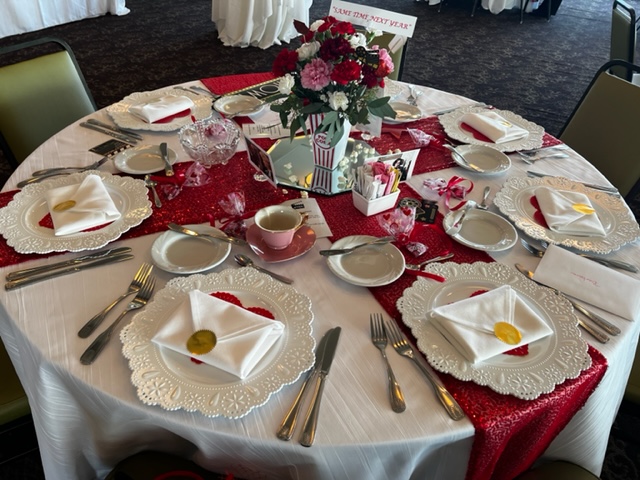 "Same Time, Next Year"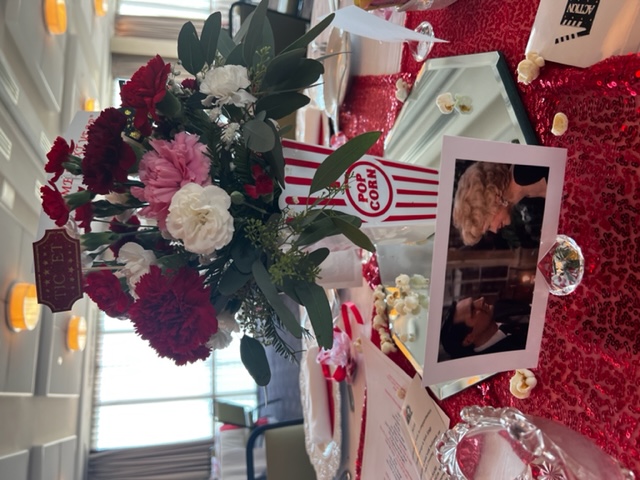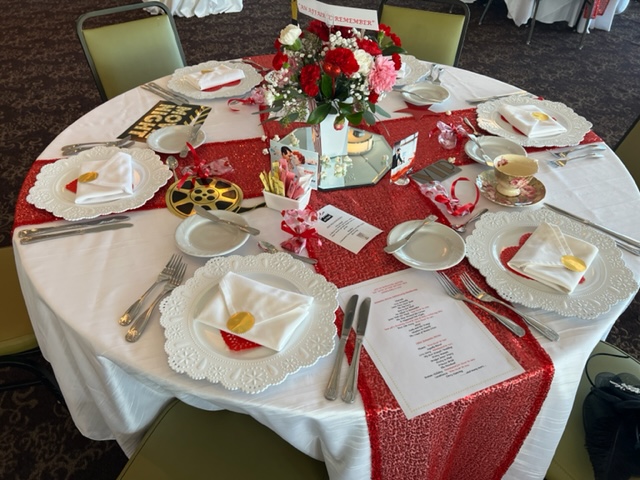 "An Affair To Remember"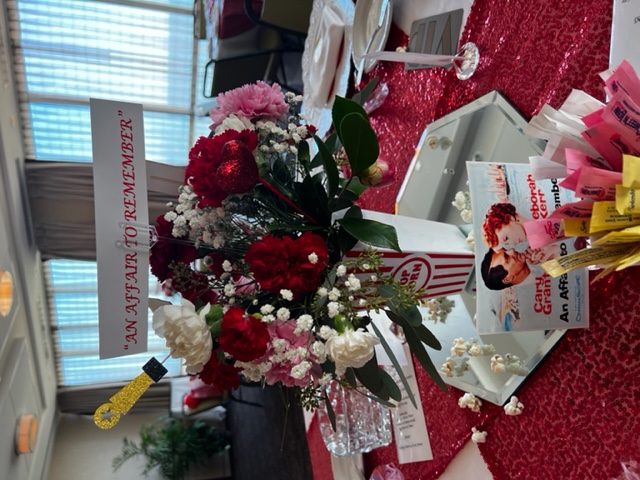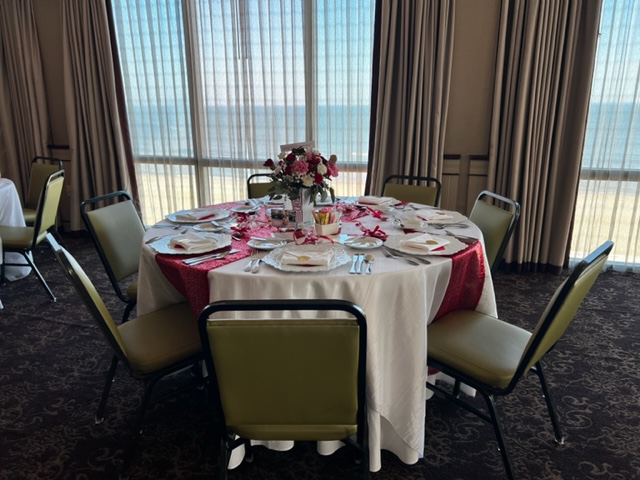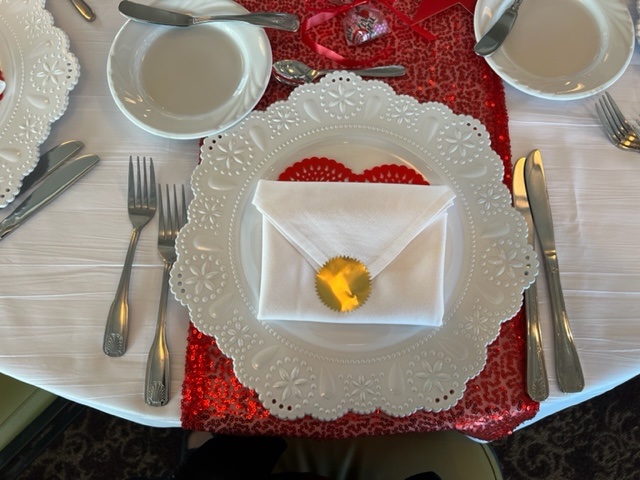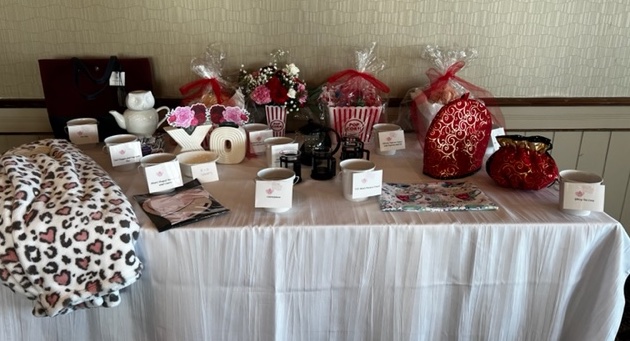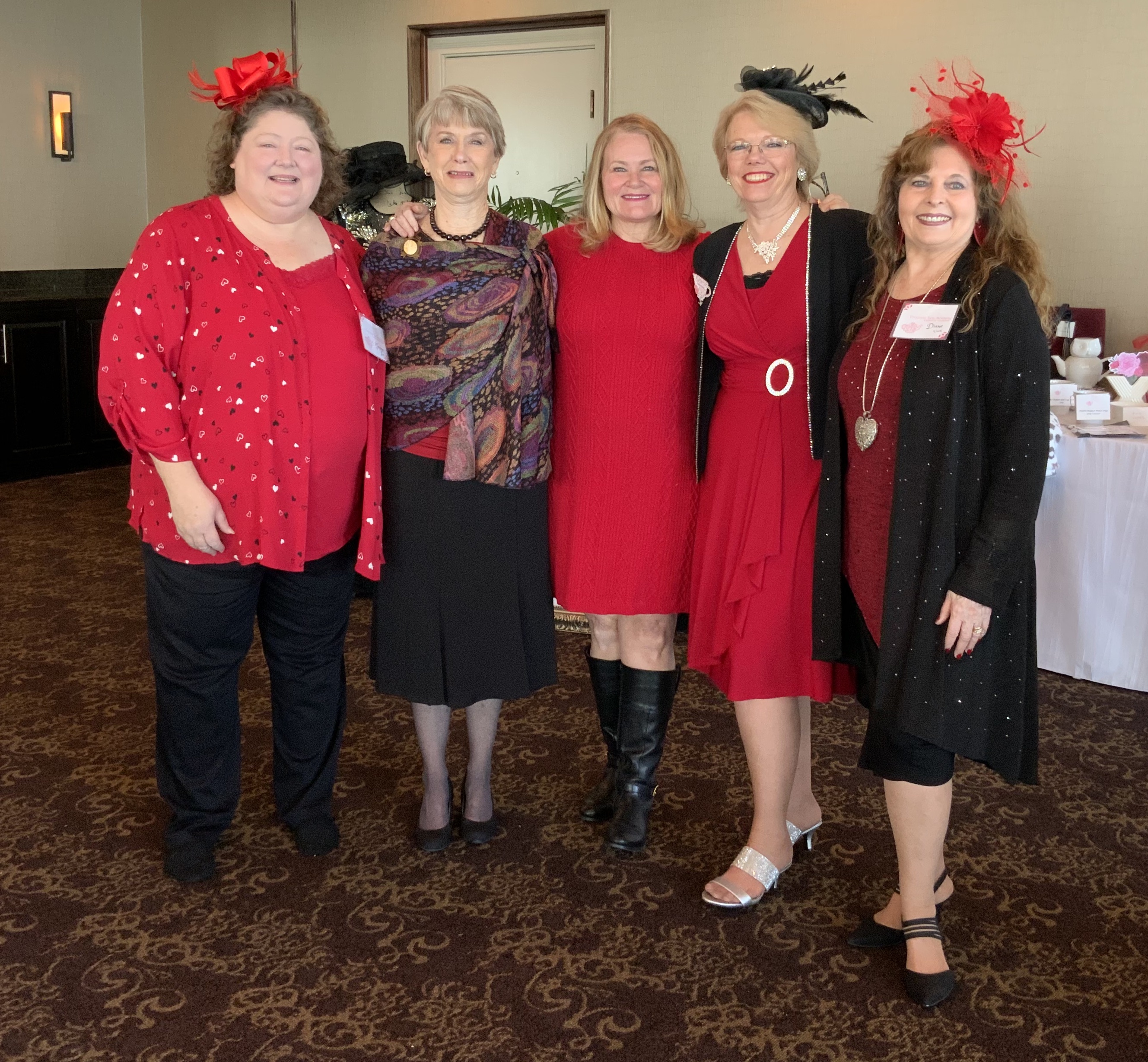 STORYLINE FROM MOVIES 
"Love at the Movies" Tea
February 12, 2022
Holiday Inn & Suites, North Beach
Virginia Beach, VA
An Affair to Remember:  1957.  Starring Deborah Kerr & Cary Grant 
Handsome playboy Nicky Ferrante and beautiful night club singer Terry McKay have a romance while on a cruise from Europe to New York. Despite being involved with other people, both agree to reunite at the top of the Empire State Building in six months.  However, an unfortunate accident keeps her from the reunion, and he fears that she has married or does not love him anymore.
You've Got Mail.  1998.  Starring Meg Ryan and Tom Hanks
Struggling boutique bookseller Kathleen Kelly hates Joe Fox, the owner of a corporate Foxbooks chain store that just moved in across the street. When they meet online, however, they begin an intense and anonymous Internet romance, oblivious of each other's true identity. Eventually Joe learns that the enchanting woman he's involved with is actually his business rival. He must now struggle to reconcile his real-life dislike for her with the cyber love he's come to feel.
Love Actually.  2003
A Christmas-themed romantic movie of nine intertwined stories that examine the complexities of the one emotion that connects us all: love. Among the characters explored are David (Hugh Grant), the handsome newly elected British prime minister who falls for a young junior staffer (Martine McCutcheon), Sarah (Laura Linney), a graphic designer whose devotion to her mentally ill brother complicates her love life, and Harry (Alan Rickman), a married man tempted by his attractive new secretary.
Same Time Next Year:  1978.  Starring Alan Alda and Ellen Burnstyn
In 1951, at a small California inn, George (Alan Alda) and Doris (Ellen Burstyn) have an affair. Instead of writing it off as a one-night stand, the pair decide to meet at the inn every year for a romantic retreat, away from their respective spouses and families. In the decades that follow, both George and Doris face their own personal struggles and hardships, and together they develop a level of love and intimacy that exceeds the ones found in their own marriages.
West Side Story:  1961 and 2021.  The original starred Natalie Wood, Richard Beymer and Rita Moreno.
An adaptation of the 1957 musical, West Side Story explores forbidden love and the rivalry between the Jets and the Sharks, two teenage street gangs of different ethnic backgrounds.  The original movie won 10 ACADEMY AWARDS IN 1961. 
Sleepless in Seattle.  1993.  Starring Meg Ryan and Tom Hanks
This film is a romantic comedy about Sam Baldwin and Annie Reed, two people who have never really met each other. Sam is a young architect whose wife dies of cancer, who decides to move from Chicago to Seattle in order to start a new life with his son.  Sam's sweet eight year old son, decides to do what he can to find his dad a new wife and himself a new mom.  Jonah phones a national radio call-in show to tell the world that his father needs a new wife, and Sam suddenly finds himself talking to millions of people, mostly women. One of those women is Annie who sees what she thinks are a variety of "signs" that she and Sam are meant to be together.  She soon decides to do everything she can to meet him, even though they live on opposite coasts.
It Happened One Night.  1934
Clark Gable and Claudette Colbert team up for laughs as mismatched lovers in this 1934 screwball comedy classic. Spoiled Ellie Andrews (Colbert) escapes from her millionaire father (Walter Connolly), who wants to stop her from marrying a worthless playboy. En route to New York, Ellie gets involved with an out-of-work newsman, Peter Warne (Gable). When their bus breaks down, the bickering couple set off on a madcap hitchhiking expedition. Peter hopes to parlay the inside story of their misadventures into a job. But complications fly when the runaway heiress and brash reporter fall in love.